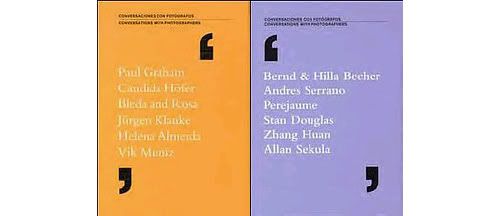 Two separate box collections of five small volumes contain conversations with highly regarded photographers of our time. Not yet available, they can be pre-ordered
here
at Photo-eye.
Artists include: Bernd & Hilla Becher, Andres Serrano, Perejaume, Stan Douglas, Zhang Huan, and Allan Sekula in one box. Paul Graham, Candida Höfer, Bleda y Rosa, Jürgen Klauke, Helena Almeida, and Vic Muniz in the other.
"The conversations published here offer insights into the thoughts and reflections of these master photographers in the context of their work and practice, aesthetics, biographical aspects and personal opinions."
Another two to add to the must own/must read books for all photographers.