Los Carpinteros
are Cuban artists whose works begin with playful and thoughtful watercolors which then often unfolds into sculptures and installations.
Untitled, 2009
For Los Carpinteros, drawing has played an integral role as a mock technical draft or form of a blue print that suggests not only a process of artistic elaboration but also a form of architectural or carpentry plans.
Alto Parlante Solimar, 2007
Altoparlante Solimar, 2008
The Havana-based collective Los Carpinteros (The Carpenters) has created some of the most important work to emerge from Cuba in the past decade. Formed in 1991, the trio (consisting of Marco Antonio Castillo Valdés, Dagoberto Rodríguez Sánchez, and, until his departure in June 2003, Alexandre Arrechea) adopted their name in 1994, deciding to renounce the notion of individual authorship and refer back to an older guild tradition of artisans and skilled laborers. Interested in the intersection between art and society, the group merges architecture, design, and sculpture in unexpected and often humorous ways. They create installations and drawings which negotiate the space between the functional and the nonfunctional. The group's elegant and mordantly humorous sculptures, drawings, and installations draw their inspiration from the physical world—particularly that of furniture. Their carefully crafted works use humor to exploit a visual syntax that sets up contradictions among object and function 
as well as practicality and uselessness.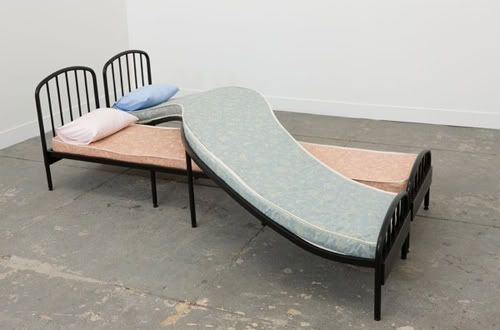 Dos Camas, 2008
all images © Los Carpinteros